NEW Men's Evolution Shorts
Available in matching designs with our Women's Booty Shorts!!
Shop your favorites!
Check Out Our Best Selling Designs... Selling Out Fast!
Sports Bras
We've got you covered from top to bottom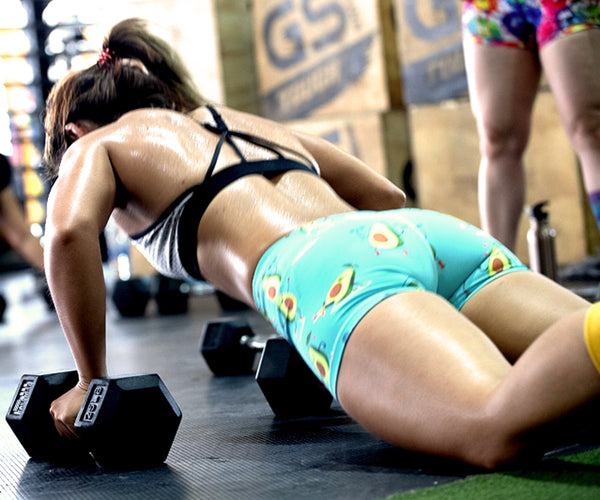 Be the best version of you!
We founded AMRAPrx to help you look and feel good! After spending many years in Crossfit (both as a member of many Boxes and now as a Coach and Personal Trainer), Coach Palm realized women athletes needed more options for gear that expressed who they were as individuals. (you can read more about the origins of AMRAPrx here.)
Look good, feel good... inside and out!
We test EVERY product to make sure it not only looks good, but it feels good even after a bone-crushing workout like "the Murph" or a 13 Kilometer Spartan Race.
Learn more...
Shop the Looks
Our fellow "rex-ers" inspire us. Get inspired with the looks they rock!
Customers love us!
Love the way these fit! I've waited so long for great shorts to come to Thailand! Thank you AMRAPrx.

Carol E., Bangkok
I feel so confident in my shorts! They don't ride up or roll up! They last throughout even my toughest work outs!  Plus, I'm so happy with how comfy they are... and they aren't see through! Amazing!

Chel B., Phuket
I'm not only the owner, but a VERY happy customer. I coach and workout all day and I made sure that AMRAPrx shorts won't fail me! I love how they look and feel and the designs are so much fun! (No more boring colors or styles for me!)

Coach Palm, Bangkok
Now Shipping Globally!

Sawasdee Ka! Born and built in Thailand, AMRAPrx is now ships globally. Same great quality now shipping to wherever you are!

Satisfaction Guarantee

We're sure you'll love our shorts! In the rare chance that something goes wrong, contact us and we'll make it right!

Secure Ordering

We use only the most reliable, modern, and safest payment methods to protect you and your orders.