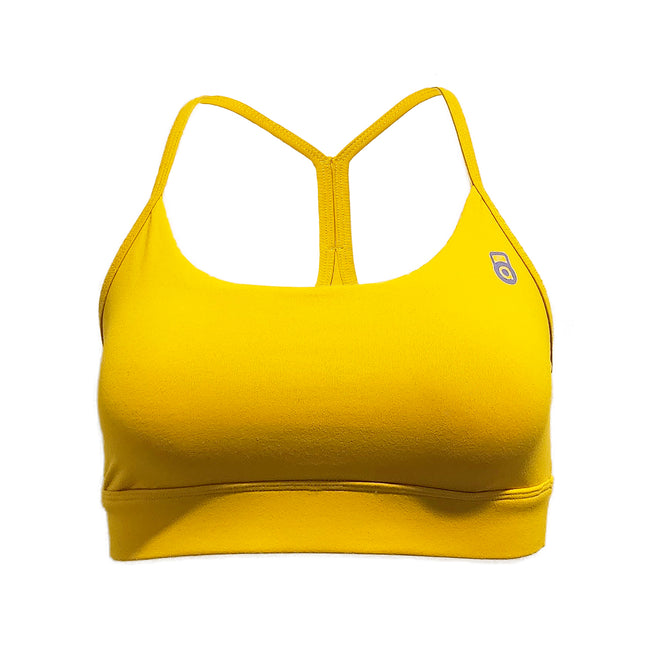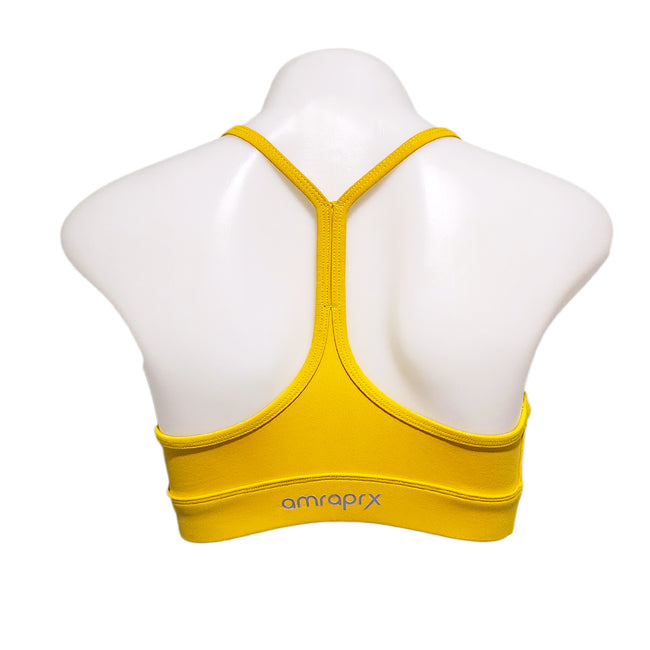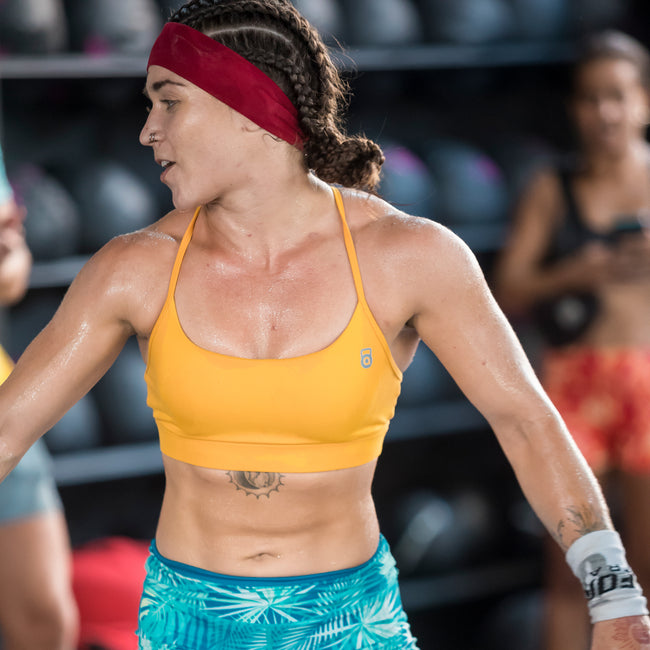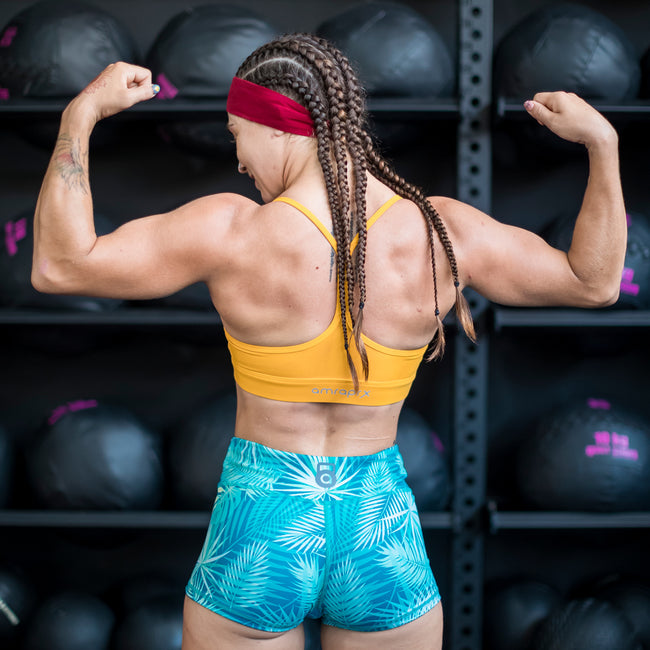 4-Way Stretch
Designed like a second skin to move and stretch with you.

SOFT & COMFORTABLE
So comfortable and light you'll want to wear them everywhere.
DURABLE
Strong construction that lasts through any routine.
SWEAT-WICKING
Moves sweat and moisture away from the body, keeping you cool.
Our Sunrise Yellow Racerback Sports Bras is tough enough for a squat thrust and comfortable enough for a yoga sesh! The color is such an amazing shade of yellow!...Our Racerback Sports Bra is sleek AF and REALLY shows off your shoulders (it makes EVERYONE look awesome!  From Crossfit to lounging... this sports bra won't let you down!
Full coverage and support in the front (where you need it) and great exposure on the back (where you want it) to show off those amazing shoulders and back. Don't hide it! Flaunt it, girl!
A medium-to-high-support sports bra designed to keep you feeling free while performing the most demanding of exercises. Personally, I can't stand how so many sports bras make me feel like there's a swamp of sweat stuck to my back. (eeeewwww) With our open back design, you'll be "feeling free" in our sports bra.
Why AMRAPrx Sports Bras?
Comfort + Performance + Support (and amazing designs)
Unlike many other sports bras, ours were developed in the gym by athletes and manufacturers who specialize in apparel technology. In other words, our sports bras are designed from the ground up to meet the demands of today's athletes (from Crossfit, to Spartan Racers, to anyone looking for real support and comfort).
Features of AMRAPrx Sports Bras:
Medium-to-High support with the right amount of coverage for high intensity workouts

Premium 4-way stretch soft touch compression fabric (contours to your curves)

Elastic-lined underbust (supportive while keeping everything close and in place)

Premium twist-proof elastic chest band

Moisture-wicking fabric (keeps you comfortable and cool)

Fully lined with removable cups that stay in place and don't fold

Anti-pilling, shrink and fade resistant fabric

73% Polyester / 27%Spandex (100% opaque) 'soft-touch' fabric
---
Wash and Care Instructions:
Taking care of your new sports bra
Once you get your sports bra, it's important to take care of your new investment. To help your sports bra last at least 12 months, it's important to follow these simple instructions:
Hand wash only in cool water.
Do not use bleach or hot water.
Hang Dry.
A few tips to keep your sports bra comfortable and long lasting:
Avoid the spin cycle and hand wash the garment
Use a gentle detergent and avoid fabric softeners. I
If you must put it in a washing machine (we really don't recommend this), fasten any hooks first.
Avoid putting your sports bra in the dryer—even on a low setting, the heat can break down your new bra's elastic, causing it to wear out well before its time.
How often should I replace my sports bra?
This depends on how often you wear and wash your sports bra, but in most cases, it should never have a birthday. All fabric wears out over time from sweat, detergent, dryers, etc. You should look for signs of wear such as rippling of the elastic or a loose fit. If you adjust your bra to the tightest hook and you can still fit your fingers underneath, it's likely wearing out. Keep in mind that you should own several sports bras and should never wear the same one two days in a row.